Array Networks aCelera-Mobile

Software WAN Optimization Client
Array Networks WAN Optimization
aCelera Centralized Manager for Mobile Clients (Licenses for mobile clients)
aCelera Centralized Manager (up to 10 clients)
#AW928740
Our Price: $2,995.00
aCelera Centralized Manager (up to 25 clients)
#AW928741
Our Price: $4,445.00
aCelera Centralized Manager (up to 50 clients)
#AW928742
Our Price: $6,495.00
aCelera Centralized Manager (up to 100 clients)
#AW928743
Our Price: $10,495.00
aCelera Centralized Manager (up to 500 clients)
#AW928744
Our Price: $33,925.00
aCelera Centralized Manager (up to 1000 clients)
#AW928745
Our Price: $62,495.00
Click here to jump to more pricing!
Overview:
aCelera Mobile runs on Microsoft Windows 7 to enable WAN optimization between remote and mobile devices and aCelera solutions running in the corporate data center or the cloud.
Mobile WAN Optimization for Remote and Brand Users
aCelera Mobile is a mobile WAN optimization client for Windows XP and Windows 7 machines that provides acceleration for individual users to a physical or virtual aCelera appliance at the corporate data center or in a cloud provider network.
aCelera Mobile is built from the same technology as the aCelera virtual appliance, therefore any new features are always available simultaneously on both platforms. aCelera mobile WAN optimization is compatible with any VPN solution – including Array AG Series Secure Access Gateways – and is available as native 32 and 64-bit versions to ensure seamless integration. aCelera mobile WAN optimization clients can also be centrally deployed via group policy and can be centrally managed using the aCelera CMS.
Features:
Accelerating application performance from anywhere to anywhere
aCelera is the industry's first WAN accelerator and optimization solution available as high-performance physical appliances, flexible virtual appliances or as software for Windows environments. Now in its third generation, aCelera has been further refined for all environments and delivers the performance, scalability and agility to operate anywhere, including cloud provider networks, enterprise data centers, branch offices and mobile users. By deploying aCelera WAN accelerators at both ends of a WAN connection, compression, de-duplication and protocol optimization work in concert to improve application response times by up to 50x and reduce bandwidth utilization by up to 95%.
Using the aCelera Configuration Management System (CMS), IT administrators can utilize a single console to manage and view the status of all aCelera WAN accelerator deployments. CMS may be used with just a few aCelera instances or with thousands of aCelera appliances and is of enormous benefit in centralizing WAN optimization management tasks.
aCelera WAN Accelerators
LAN like performance when accessing remote applications and data, improves application response times by up to 50x
Maximizes the utilization of existing WAN links, reduces bandwidth costs and avoids WAN link upgrades. Reduces bandwidth utilization by up to 95%
Improves the end-user experience and enables greater productivity for employees, customers and partners by reducing the time necessary to complete data transfers
Scalable high-performance proxy and single instance store allow aCelera to meet the needs of the largest enterprises and service providers
aCelera WAN accelerators are simple to manage and support easy setup wizards, auto-discovery of peers and central management provided at no charge
Mobile Client
Avoids cost of using tethered 3G data connections
Compatible with all network connectivity options including wired Ethernet, 802.11 wireless, EVDO or 3G network cards
Requires no user training and is 100% transparent to end users
Deploys remotely anywhere in the world using group policies
Easy to setup, with support for central management provided at no charge
Provides a cost-effective alternative to appliances for small branches and individual users
Specifications: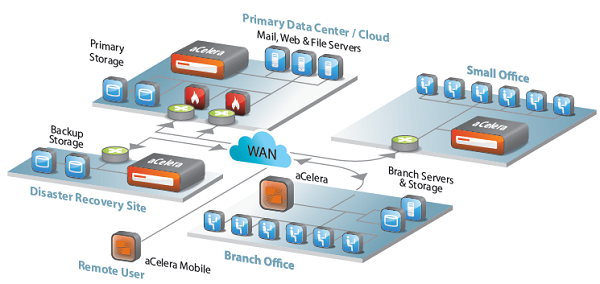 Array WAN Optimization Architecture
aCelera VA, Windows & Mobile Specifications
aCelera VA
aCelera Windows
aCelera Mobile
Throughput
Up to 1 Gbps
Up to 1 Gbps
Up to 10 Mbps
TCP Connections
Up to 64,000
Up to 64,000
Up to 100
Platform Support
VMware vSphere
Windows Server
Windows 7
Pricing Notes:
Pricing and product availability subject to change without notice.
aCelera Centralized Manager (up to 10 clients)
#AW928740
Our Price: $2,995.00
aCelera Centralized Manager (up to 25 clients)
#AW928741
Our Price: $4,445.00
aCelera Centralized Manager (up to 50 clients)
#AW928742
Our Price: $6,495.00
aCelera Centralized Manager (up to 100 clients)
#AW928743
Our Price: $10,495.00
aCelera Centralized Manager (up to 500 clients)
#AW928744
Our Price: $33,925.00
aCelera Centralized Manager (up to 1000 clients)
#AW928745
Our Price: $62,495.00
aCelera Centralized Manager (up to 10 clients) - Support
aCelera Centralized Manager (up to 25 clients) - Support
aCelera Centralized Manager (up to 50 clients) - Support
aCelera Centralized Manager (up to 100 clients) - Support
aCelera Centralized Manager (up to 500 clients) - Support
aCelera Centralized Manager (up to 1000 clients) - Support
Installation of Array products at one site
#PS909101
Our Price: $2,000.00
Training: Array APV Quickstart (1 day, 1 person)
#PS909201
Our Price: $1,495.00
Training: Array AG/SPX Quickstart (1 day, 1 person)
#PS909202
Our Price: $1,495.00
Training: Array APV Implementation (2 days, 1 person)
#PS909203
Our Price: $2,795.00
Training: Array AG/SPX Implementation (2 days, 1 person)
#PS909204
Our Price: $2,795.00
Training: Instructor Training and Certification (5 days, 1 person)
#PS909205
Our Price: $6,995.00
Professional Services: Per Day Contracting Fee (8 hours)
#PS909301
Our Price: $2,000.00
Professional Services: Extended Hours (max. 8 addl. hours per purchase of PS909301), Per Hour
#PS909309
Our Price: $250.00