Array Networks Solutions - Availability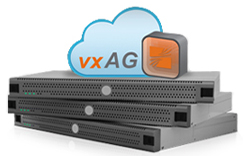 AVX Series virtualized appliances provide the best of both worlds – the agility of cloud and virtualization with the performance of dedicated appliances.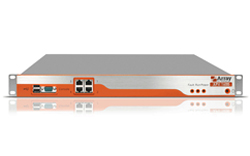 Available as physical or virtual appliances, Array ADCs are designed to meet technical requirements while remaining simple enough for any size IT team and affordable enough for any size business.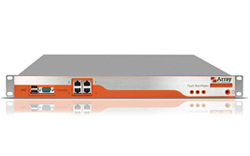 Available in a range of purpose-built appliances or as a virtual appliance for cloud and virtualized environments - ideal for enterprises that need to support multiple communities of interest as well as service providers that need to provide remote access to globally dispersed data centers.
Server Load Balancing for Application High-Availability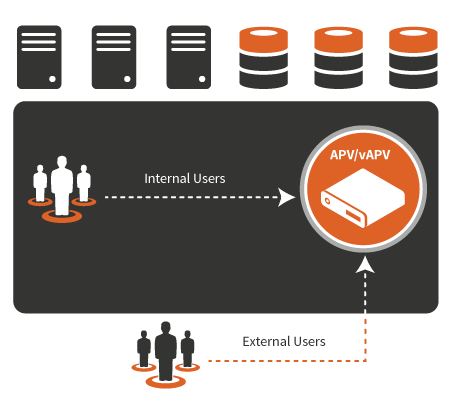 Server load balancing provides scalability and high availability for applications, Web sites and cloud services by monitoring the health of servers, evenly distributing loads across servers and maintaining session persistence and a seamless user experience in the event that one or more servers become overburdened or unresponsive.
Load balancing is a staple solution in virtually every data center. However, today's application delivery controllers (ADCs) represent a considerable evolution from simple server load balancing methods. Array's 64-bit multi-core SpeedCore® architecture supports massive throughput and millions of concurrent connections for scaling application availability without impacting application performance.
In addition, integrated traffic management and application acceleration functions including SSL acceleration, adaptive compression, dynamic caching, connection multiplexing, content routing and quality-of-service provide unparalleled control over application traffic and the ability to significantly improve application performance.
Whether you are responsible for a single application or Website, a large Internet property or a public or private cloud, Array server load balancing delivers the performance, scalability, features and value essential for accelerating your business.
Benefits of Server Load Balancing

Scalability
Seamlessly add servers and scale applications by load balancing any number of servers from a single URL and IP address

Efficiency
Up to 10x greater server efficiency for greater ROI and better application performance by offloading SSL and TCP processing

Performance
Reduce response and transaction times for Websites, applications and cloud services by caching, compression and SSL acceleration for up to 5x better application performance

Availability
Load balancing for distributing traffic, performing health checks and maintaining session persistence across multiple servers to ensure applications remain up and running in the event of one or more servers become unavailable

Flexibility
Available as dedicated appliances or virtual server load balancers for VMware, Citrix, Hyper-V, OpenXen and KVM, Array load balancers are equally at home in the enterprise data center and public or private clouds. Feature parity across platforms and unmatched performance, flexibility and management integration make Array's application delivery solutions ideal for public cloud service offerings and private cloud environments.
Global Server Load Balancing for Multi-Site High Availability

Global Server Load Balancing (GSLB) intelligently directs traffic based on server location, load and health to enable faster application response times and provides multi-site failover in the event that geographically dispersed data centers become unavailable or unresponsive.
Array global server load balancing provides flexible, scalable and high-performance load balancing across geographically dispersed sites to provide protection against the effects of business continuity and disaster recovery events. In addition, Array GSLB serves as a DNS service, continuously monitoring load information for each application at each site to direct user requests across optimal paths to servers at highly-available locations.
Available as a stand-alone solution or in conjunction with other Array high-availability solutions including link load balancing and server load balancing, Array GSLB supports a wide range of traffic management policies and algorithms and supports millions of concurrent connections for scaling application availability without impacting performance.
Whether you are responsible for private enterprise networks or public or private clouds, Array GSLB solutions deliver the features, scalability and price-performance essential to ensuring 24x7 availability for business-critical applications and global operations.

Fast
Global server load balancing routes traffic around congestion to alternate data centers with higher levels of performance and availability.

Close
Global server load balancing ensures applications remain up and running by distributing traffic, performing health checks and supporting high availability across locations.

Available
Global server load balancing identifies and routes requests to the closest available data center for optimal application performance.
Link Load Balancing for High-Availability Network Connectivity

Link load balancing provides advanced failover and bandwidth management for multiple WAN connections to assure continuous operation of enterprise applications and cloud services in the event that one or more ISP links become unavailable or slow to respond.
Array link load balancing intelligently analyzes ISP WAN links to allocate bandwidth, assign priority and enable seamless failover for business-critical applications. Available as a stand-alone solution or in conjunction with other Array high-availability solutions including server load balancing and global server load balancing, Array link load balancers help guarantee uptime and service level agreements, reduce bandwidth costs and improve the end-user experience.
Firewall Load Balancing, Availability & Acceleration

As network speeds and network security requirements evolve, meeting NGFW requirements by simply scaling up hardware capabilities becomes much more difficult. Specifically, a single NGFW appliance might not have the scalability or performance to address the needs of large deployments, particularly those with heavy outbound traffic such as large school districts, universities or service providers.
In those circumstances, a Layer 3 open sandwich strategy for SonicWALL NGFWs can address performance and scalability needs. By pairing Dell SonicWALL NGFWs with Array's APV Series Application Delivery Controllers (ADCs), the APV Series' high-performance load balancing capability can increase the NGFWs' performance and capacity to meet requirements.
Dell SonicWALL SuperMassive Series
Array APV Series application delivery controllers are high-performance platforms that provide Layer-3 load balancing to ensure the SonicWALL SuperMassive firewalls perform at the highest possible level. This solution can ensure persistent throughput for outbound traffic (LAN to WAN for example), as well as inbound traffic such as SIP calls that originate from the WAN side
Enabling a Smooth Transition to IPv6

The growth of users, devices and applications on the Internet is creating continuous demand for new IP addresses. Because new IPv4 addresses are no longer available, enterprises, IaaS and SaaS providers and other organizations must support existing IPv4 devices as well as IPv6-capable products, all while managing the transition of their networks to IPv6.
Leveraging Array APV Series application delivery controllers' IPv6 transition capabilities, enterprises and service providers can deliver IPv4 resources to IPv6 clients, deliver IPv6 resources to IPv4 clients and enable secure and efficient application delivery for pure IPv6 networks. Array was the first application delivery controller vendor to achieve IPv6 Forum Gold Certified status to support IPv6 transition through feature parity and operation in IPv6 networks and the first vendor to offer the performance and scalability to accommodate the larger address space of IPv6 while ensuring compatibility with IPv4 networks.
IPv6 Transition, Translation & Preservation

SLB-PT & SLB-64
Rapidly deploy an IPv6 Web presence without the need for duplicate equipment, content and management with server load balancing protocol translation (SLB-PT) to transform existing IPv4 sites into IPv6-compatible sites

NAT 64 & DNS64
NAT 64 and DNS64 enable IPv6-only clients to connect to IPv4 servers and content

Dual-Stack IPv6
Make the most of depleted IPv4 resources with NAT and dual NAT (dual-stack IPv6), which allow multiple clients to utilize a single IPv4 address

IPv6 Gold Certified
IPv6 feature parity for all Array products enables fully capable next-generation solutions