Array Networks aCelera VA

Virtual WAN Optimization Controller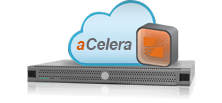 Sorry, this product is no longer available, please contact us for a replacement.
Overview:
aCelera VA Virtual WAN Optimization Controllers accelerate applications, speed data transfers and reduce bandwidth costs using a combination of application, network and protocol optimization.
Array aCelera WAN Accelerators

Application Acceleration
Whether accelerating headquarters to branch, data center to data center, cloud to customer or remote and mobile access connections, aCelera improves application response times by up to 50x while reducing bandwidth utilization by up to 95%. Supported applications include file sharing, email, collaboration, enterprise applications, software distribution, test and development and software-as-a-service (SaaS).

Backup & Replication
Deployed at data centers, remote and branch offices and mirrored sites – as well as public, private and hybrid clouds – aCelera improves data transfer times by up to 50x while reducing bandwidth utilization by up to 95%. Supported backup and replication applications include Dell EqualLogic, IBM Tivoli Fast Back and Storage Manager, NetApp SnapMirror and other leading solutions.
aCelera
TCP Optimization
aCelera is Array's core WAN optimization feature set included with every aCelera physical and virtual appliance, as well as aCelera for Windows. TCP optimizations such as window scaling, congestion avoidance, fast convergence and selective acknowledgement promote fairness between data flows, better utilization of high and low bandwidth connections and faster recovery in the event of packet loss.
Stream-Based Differencing
Patent-pending stream-based differencing enables continuous identification and analysis of larger streams of data in sequential order. Stream-based differencing facilitates the compression, organization and differencing of all data types as part of an overall data reduction and optimization process.
Application Blueprints
Application blueprints optimize protocols so they operate efficiently across wide area networks. Using techniques such as local acknowledgement of requests, request pipelining, pre-fetching data and request bundling, blueprints significantly improve application performance. In addition, blueprints provide the application intelligence required for content-aware de-duplication.
Content-Aware-De-Duplication
Strips off TCP/IP and protocol encapsulation to create a clean history that results in better data reduction, faster data transfers and superior matching for content transferred using different protocols.
Single Instance Store
aCelera's unique single instance store provides a scalable resource to implement data differencing such that unchanged data is not sent over the network twice. In addition, the store scales linearly with available memory and enables predictive preloading based on usage patterns.
Compression & Traffic Shaping
Compresses the first pass of data, and then uses application blueprints to perform content-aware de-duplication and prevent long-term performance degradation. For business-critical applications, traffic shaping may be used to assign guaranteed bandwidth to particular hosts, networks, ports or applications.
aCelera CMS
aCelera Configuration Management System
With aCelera CMS, administrators gain a single console from which to view and manage all aCelera WAN accelerator deployments. aCelera CMS may be used with a few instances or with thousands of appliances and provides enormous benefits in streamlining management tasks.
CMS allows policies to be managed at global level rather than device by device, and allows aCelera to be deployed anywhere in the world in less than thirty minutes. In addition, CMS simplifies change management and keeps a central backup of device configurations to ensure business continuity.
Highlights & Benefits
Improve application response times by up to 50x while reducing bandwidth utilization by up to 95%
Supports 50% more accelerated connections as compared to competing solutions at significantly less cost, delivering ROI in extremely short timeframes
Purpose-built to reduce the impact of network congestion, latency and packet loss that combine to slow end-user response times and the transfer of data
Application-specific blueprints and specific protocol optimizations eliminate redundant and chatty traffic
Stream-based differencing for eliminating the transmission of content previously received in local data stores
Compression for reducing the amount of data transmitted over wide-area connections
Integrated automated failover for high availability in business-critical environmentsWindow resizing, persistent connections and small packet aggregation for dramatically improved TCP performance
Integrated QoS, traffic shaping and SSL for optimizing, prioritizing and securing traffic in your network
Deliver cost-effective, seamless audio and video using QoS to guarantee bandwidth and prevent jitter and latency from impacting audio, video and VoIP apps
Future-proof deployment in data centers, clouds, remote locations and remote/mobile users – or any combination
Simplified management of virtual and physical appliances via transparent addressing, statistical performance dashboards, comprehensive reporting, and auto discovery
Centralized provisioning, Web services integration with 3rd party management tools or integration with virtualization management systems
Features:
Accelerating application performance from anywhere to anywhere
aCelera is the industry's first WAN accelerator and optimization solution available as high-performance physical appliances, flexible virtual appliances or as software for Windows environments. Now in its third generation, aCelera has been further refined for all environments and delivers the performance, scalability and agility to operate anywhere, including cloud provider networks, enterprise data centers, branch offices and mobile users. By deploying aCelera WAN accelerators at both ends of a WAN connection, compression, de-duplication and protocol optimization work in concert to improve application response times by up to 50x and reduce bandwidth utilization by up to 95%.
Using the aCelera Configuration Management System (CMS), IT administrators can utilize a single console to manage and view the status of all aCelera WAN accelerator deployments. CMS may be used with just a few aCelera instances or with thousands of aCelera appliances and is of enormous benefit in centralizing WAN optimization management tasks.
aCelera WAN Accelerators
LAN like performance when accessing remote applications and data, improves application response times by up to 50x
Maximizes the utilization of existing WAN links, reduces bandwidth costs and avoids WAN link upgrades. Reduces bandwidth utilization by up to 95%
Improves the end-user experience and enables greater productivity for employees, customers and partners by reducing the time necessary to complete data transfers
Scalable high-performance proxy and single instance store allow aCelera to meet the needs of the largest enterprises and service providers
aCelera WAN accelerators are simple to manage and support easy setup wizards, auto-discovery of peers and central management provided at no charge
Virtual WOC Appliances & Windows Software
Deploys remotely anywhere in the world in less than 30 minutes
Cost-effectively leverages existing servers and storage, no hardware appliances to manage
Consolidate WAN optimization and other workloads into a single server to reduce rack-space and cooling requirements
Specifications: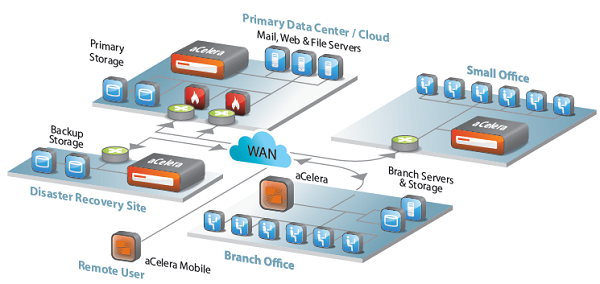 aCelera WAN Series Specifications
1100
2100
2300
2500
2900
Throughput
10 Mbps
20 Mbps
100 Mbps
310 Mbps
1 Gbps
TCP Connections
40 - 1,000
40 - 2,400
40 - 20,000
40 - 40,000
40 - 100,000
Hard Disk
500GB
500GB
1TB
2TB
2TB
aCelera VA, Windows & Mobile Specifications
aCelera VA
aCelera Windows
aCelera Mobile
Throughput
Up to 1 Gbps
Up to 1 Gbps
Up to 10 Mbps
TCP Connections
Up to 64,000
Up to 64,000
Up to 100
Platform Support
VMware vSphere
Windows Server
Windows 7