Array Networks aCelera-Windows

aCelera for Windows Server
Sorry, this product is no longer available, please contact us for a replacement.
Overview:
aCelera Windows runs on Microsoft Windows Server to flexibly enable on-demand, full-featured application and data acceleration whenever and wherever it is needed.
aCelera for Windows Server
aCelera for Windows Server is the industry's first WAN optimization solution available as a Windows service. Now in its third generation, aCelera Windows has been further refined for server environments and offers a level of performance and scalability unmatched by other vendors. Today, aCelera scales to support the needs of the smallest branch office to the largest enterprise data center or cloud provider network. Deploying aCelera symmetrically at both ends of a WAN connection overcomes bandwidth limitations utilizing compression and data de-duplication and overcomes network latency issues utilizing TCP and application protocol optimization.
Features:
Accelerating application performance from anywhere to anywhere
aCelera is the industry's first WAN accelerator and optimization solution available as high-performance physical appliances, flexible virtual appliances or as software for Windows environments. Now in its third generation, aCelera has been further refined for all environments and delivers the performance, scalability and agility to operate anywhere, including cloud provider networks, enterprise data centers, branch offices and mobile users. By deploying aCelera WAN accelerators at both ends of a WAN connection, compression, de-duplication and protocol optimization work in concert to improve application response times by up to 50x and reduce bandwidth utilization by up to 95%.
Using the aCelera Configuration Management System (CMS), IT administrators can utilize a single console to manage and view the status of all aCelera WAN accelerator deployments. CMS may be used with just a few aCelera instances or with thousands of aCelera appliances and is of enormous benefit in centralizing WAN optimization management tasks.
aCelera WAN Accelerators
LAN like performance when accessing remote applications and data, improves application response times by up to 50x
Maximizes the utilization of existing WAN links, reduces bandwidth costs and avoids WAN link upgrades. Reduces bandwidth utilization by up to 95%
Improves the end-user experience and enables greater productivity for employees, customers and partners by reducing the time necessary to complete data transfers
Scalable high-performance proxy and single instance store allow aCelera to meet the needs of the largest enterprises and service providers
aCelera WAN accelerators are simple to manage and support easy setup wizards, auto-discovery of peers and central management provided at no charge
Virtual WOC Appliances & Windows Software
Deploys remotely anywhere in the world in less than 30 minutes
Cost-effectively leverages existing servers and storage, no hardware appliances to manage
Consolidate WAN optimization and other workloads into a single server to reduce rack-space and cooling requirements
Specifications: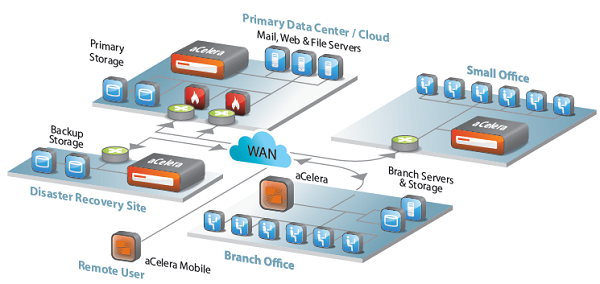 Array WAN Optimization Architecture
aCelera VA, Windows & Mobile Specifications
aCelera VA
aCelera Windows
aCelera Mobile
Throughput
Up to 1 Gbps
Up to 1 Gbps
Up to 10 Mbps
TCP Connections
Up to 64,000
Up to 64,000
Up to 100
Platform Support
VMware vSphere
Windows Server
Windows 7