vAWF

Virtual Web Application Firewall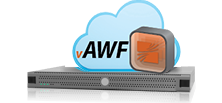 Array Networks Web Application Firewalls Controllers
Overview:
vAWF virtual Web application firewalls provide industry-leading Web application attack protection, ensuring continuity and high availability of Web applications while reducing security risks.
Array's vAWF virtual Web application firewalls extend beyond traditional firewalls and intrusion detection systems to provide comprehensive protection for business-critical Web applications. vAWF not only detects the complex Web application attacks of today, but also blocks the attack traffic in real time without affecting the normal flow of business data traffic. In addition, vAWF provides extremely fine-grained attack detection and analysis capabilities while protecting against the most common Web application threats including SQL injection attacks, Web page tampering, Web site malicious code, and disclosure of sensitive information.
Array's vAWF virtual Web application firewalls protect against the most widespread attack mechanisms while providing active incident response to halt hackers in their tracks, with post-incident analysis and diagnosis to provide guidance for strengthening servers against future attacks.
Available for common hypervisors, the vAWF virtual appliances are ideal for organizations seeking to benefit from the flexibility of virtual environments.
Features:
Highlights & Benefits
Next-generation Web application firewall operates on multiple levels to protect vital Web servers and applications
Continuous scanning for Web application vulnerabilities and for SQL injection or cross-site scripting and other threats within applications
DDoS protection via brute force attacks mitigation
Active incident response including detection, blocking and prevention of intrusion and other attacks, including zero-day detection by abnormal behavior analysis techniques
Post-incident diagnosis and analysis of security issues to reduce overall security risk and maintain Web site credibility
Highly refined rules library includes sophisticated protections such as information disclosure protection, embedded Trojan detection and protection, protocol integrity detection, keyword filtering and much more
Comprehensive Layer 1 through 7 protection for Web servers at the network level, including packet-filtering, URL-based access control, blacklist/whitelist and other protection functions
Web page tamper-proofing through centralized management and control of all Web tamperproofing endpoints, with content monitoring, synchronization and publish functions
Customizable feature library and flexible configuration model to meet the needs of complex Web applications
Comprehensive management portal provides visualized monitoring at the system, hardware, attack and tamper-proofing levels
Guided configuration with exception rules to reduce installation complexity and errors
Comprehensive management portal provides visualized monitoring at the system, hardware, attack and tamper-proofing levels
Role-based authentication at the administrator level to secure configuration and data and allow for auditing
Logging and log analysis with graphical representation and easy export of logs and statistics
Specifications:
Hypervisor Support
Virtual Machine Requirements
VMware ESXi 4.1 or later
KVM 1.1.1-1.8.1 or later
2 Virtual CPUs
2GB RAM
Pricing Notes:
Pricing and product availability subject to change without notice.